When was the last time you read a book where you can relate with the protagonist? Well, here is Trisha Bora's "What Kitty Did?" that offers the readers into a fun-filled ride and a session of delectable read. I was surprised to find that she is an editor at Juggernaut Books and this was her debut work. Congrats on the excellent debut book Trisha Bora.
The cover design of the book is to be lauded and praised as it very catchy and will be a prime eyecatcher to choose this book. A simple illustration with the right colors chose to portray Kitty is an excellent idea. Kudos to the designer Saurabh Garge on his good cover design and the author, publication team for choosing this simple yet appealing design.
Getting into the nerve of the novel, it's all about the protagonist Kitty aka Ketaki Roy, a millennial, twenty-something-year-old. She is fresh out of her college with an English Lit to her credentials working in a fashion magazine called Poise to make end meets. She is often branded irresponsible and below average at her work. She struggles to make her work make more enticing to others in a way struggling to make her manage her decent job.
She is assigned to work on a piece about late celebrity Roxanne Merchant, a yesteryear film actress and who is a wife of a powerful cultural attache. Kitty determined to unearth image of the murderer herself has to go through all kind of situations from late night auto rides to putting her life in the mouths of danger without thinking otherwise.
The author has to be lauded in particular as she had made Kitty, the protagonist more real and relatable which is hard to find these days. She is like most of us demanding something from life but regrets being in a situation which later changes and goes on. The writing is lucid and simple and doesn't get into unwanted parallels which would have confused the readers, but the author like a seasoned writer takes cares of this.
The plot and the characters are well defined making this particular book a page turner when Kitty makes the decision to unearth the image of the murderer associated with Roxy Merchant murder. The pun intended, witty and self-depreciating Kitty may be the new protagonist that the readers really wanted for these times. She tries to avoid every other problem like the rest of us hiding behind a mask of sarcasm, believing her friends, stumbling down and getting up the next makes this character really likable and also the book.
The book is a must read for every new reader who is out looking for something curious and out the box plots. The author with her witty and an imperfectionist protagonist has striven hard to give a delectable tale to be devoured without any hassles that come along with the book. Go, Sit and Enjoy the book. Trisha Bora didn't disappoint and I will be eagerly waiting for her next book.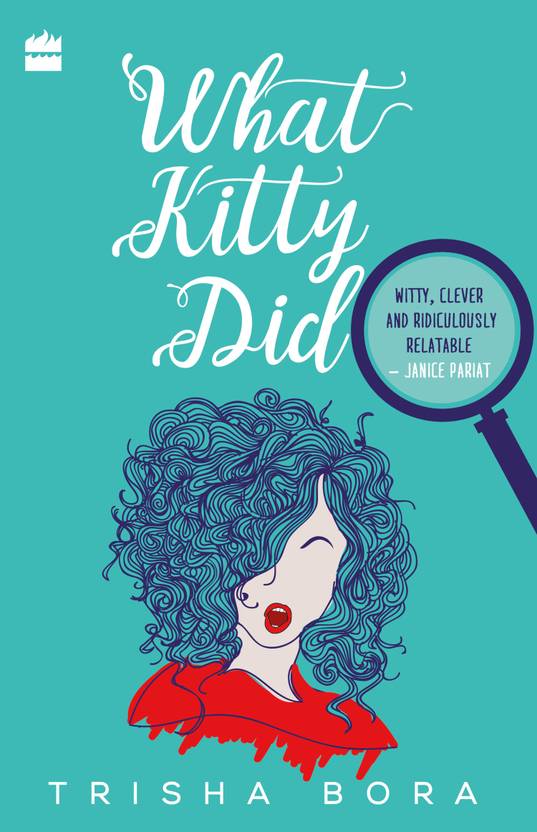 Book Details : 
Author:  Trisha Bora
Paperback: 306 pages
Publisher: HarperCollins India
Language: English
Genre: Fiction
ISBN-13: 978-9352644476
Copy: Flipkart Review Programme
Rating: 3.5/5
Grab the book in Flipkart.
Love,
Jonty.