Have you ever thought of maneuvering a fighter jet aircraft whizzing in the air, flying in supersonic speeds racing against gushing air, defeating falcons, dodging enemy aircraft's attacks, having the patriotism oozing out of our hearts with a sense of adrenaline rush ? Well, I have always wondered about the engines gliding in the gargantuan sky from the ground which appears like an ant in the blue ocean of sky leaving behind trails of white puffy smoke.
Nostalgia engulfs me when I began to read Baaz by Anuja Chauhan. NO, I have neither got any relatives as fighter pilots in the Indian Air-force nor I knew any war photographers. Then why the feeling of nostalgia you may ask? Well it was with Anuja Chauhan's "The House That BJ Built" that I started book reviewing in my blog and I got the chance once again to plunge into her world of characters through Baaz. So here I am with her new book trending the e-commerce as a bestseller.
The cover when it was released made me more inquisitive about the book and the blurb clearing that this is a story set in the backdrop of life in the Indian Air Force during the Bangladesh Liberation war blew my minds off. This is the fifth book of Anuja Chauhan after her successes with Zoya Factor, Battle for Bittora and the Thakur Girls series. The book cover will try to grab some eyes although it could have been better.
She has already plunged into stories where family relations, romance and authentic Indianess will find its way out of her books and Baaz is no different from it. The book reveals the story of Ishaan "Baaz" Fajudar or Shaanu who always find his adrenaline rushed and wanting something to do for thrills.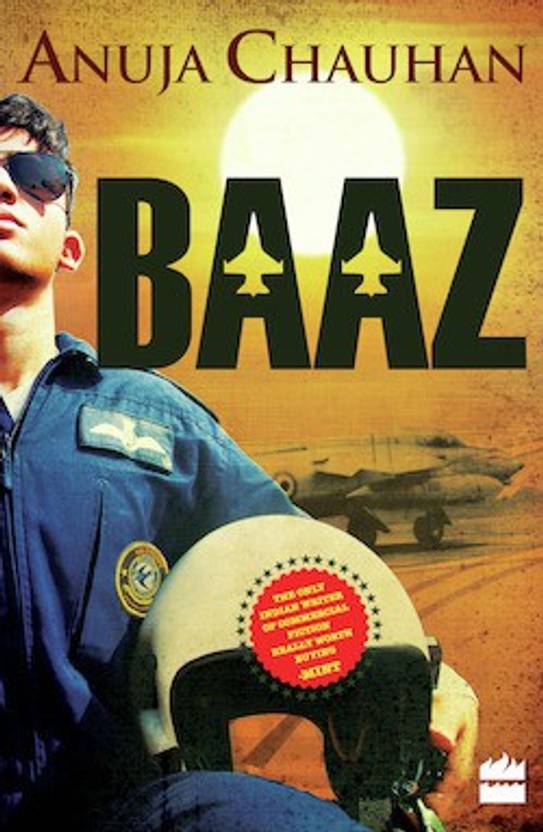 The story follows his story from a boy where Shaanu jumps train tracks in Chakkahera, his relations with his step father, his immense love for his siblings, training days at the Jodhpur flying school and flying the Gnat with IAF. The backdrop of 1971 war is just amazing to the readers who are expecting some amazing stories from her. The term Baaz-ke – maaphik  resonating throughout the book is quirky and reminds of Shaanu every time. Until he meets Tehmina Dadyseth aka Tinka who is a war photographer from a family of army men, he is all running where his adrenaline rushes. She condemns war and does not picking sides during the war, teaching dance to refugee children.
It is when both them meet the story rushes to a new zone where they argue incessantly about and as theories suggest opposite characters fall in love. Although, the author hasn't only tried to portray love throughout the book as complicated parenthood, sibling relationships while touching upon a number of social issues and most importantly war and patriotism.
The sub characters are well woven into the story and stay in our minds with the initial witty chapters staying afresh in our minds. Both Baaz and Tinka characters are more likable among the many characters due to their social consciousness  and the way Anuja has inscribed about the oxymoron characters of them falling in love. All the characters are authentic like every other Anuja's book where we can relate them.
The language is very simple and easy to follow. The book is not just a rhetoric about patriotic men or women who defy the norms or patriotism that is fueling the country but an amalgamation of everything including some witty and strong personal relationships. The book is very much intriguing and will over in  Baaz-ke-maaphik. So don't miss the book and plunge into Anuja's world of characters.
Book Details : 
Author: Anuja Chauhan
Paperback:  432 pages
Publisher: HarperCollins India
Language: English
Genre:  Fiction
ISBN-13: 9789352644124, 9352644123
Copy: Flipkart Review Copy
Rating: 3.5/5
Grab the book in Flipkart
Love,
Jonty.