Everyone must be aware of Taslima Nasrin one way or the other through the controversies she has been shadowed throughout the years which made her almost a household name in India. The book "Lajja" will bear a reminder in everyone's mind whichever book she still releases. Also she has been battling fatwa issued on her for a long time not to forget she is also a former physician, human rights activist and expatriated from her country.
Taslima Nasrin has been living in exile from 1994 when she left Bangladesh and was shuffling between Europe and America for more than 10 years. She was granted a temporary residential permit in India in 2004 where she made West Bengal her second home. But that was just a interim chapter in her life as she was exiled from Bengal due to a controversy again in 2008.
In this memoir she begins with the things she experienced in India whe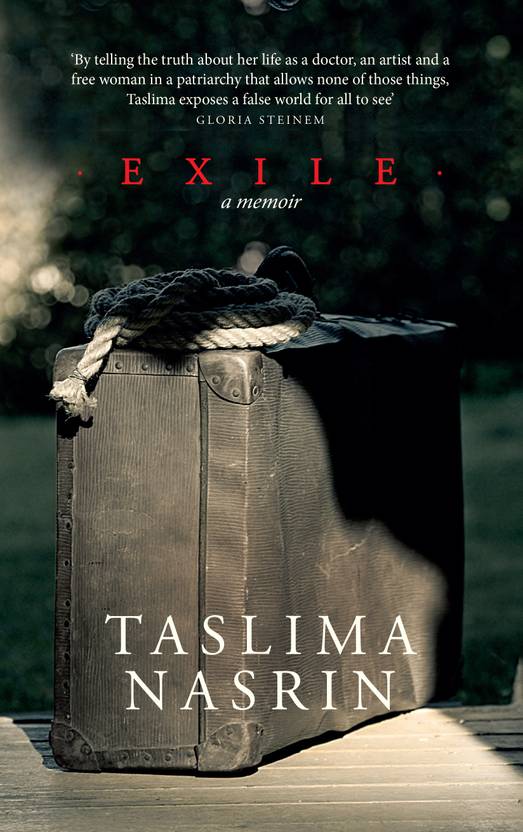 n began to live her life which was close to the roots she came from. She was a Bengali living on the other side of Bengal, which eventually she calls her second home. Her narrative isn't secluded but a straightforward points that emerge from a lady who had all her life been chasing her dreams of writer who want to express her thoughts.
The narrative takes the form of musings, articles from newspapers, diary entries and some part conversations. The attack in Hyderabad which made her been house arrested in Kolkata and the transferring her to safe houses within India in Rajasthan and New Delhi forms an important part. Her memoirs about the people in exile and her thoughts about the press do gives us a glimpse on her process of thoughts she had during those taut days in safe houses.
The book although a memoir, doesn't  grab much of our attention as many things mentioned like the exile from Bengal and the incident from Hyderabad were much speculated by the media and the press during those periods and every reader must have read those things earlier.Also many readers wouldn't agree with much thoughts of her bashing's.
So these  musings rather than making a page turner or another memoir of much importance loses its flair when it started sounding depressing. The laments on the press and other things makes the readers too depressing though it makes much informative. The lengthy book makes dull and monotonous chapters but puts a light light on the insight and the thought process of the author.
The book which is of 336 pages seems relevant only because it is written by Taslima Nasrin. The book is good for a one time read and who already have read Taslima's other works.
Book Details : 
Author: Taslima Nasrin
Paperback: 336 pages
Publisher: Penguin Random House India
Language: English
Genre:  Biographies / Autobiographies
ISBN: 9780670088744, 0670088749
Copy:  Flipkart Review Programme
Rating: 2.5/5
Grab the book in Flipkart
Love,
Jonty.